~ ULTIMATE DOG WASHING SYSTEM ~
© 2013 Puppybox4u.com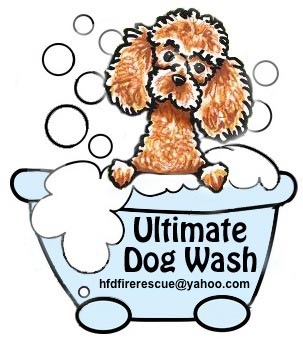 $350.00
Bath dogs like the Pro's
COMES COMPLETE WITH:
Hose, Nozzle, Water Volume Control, Pump, Foot Control, Mesh Bag, Tap Strap
High volume higher pressure water flushing action
eliminates almost all hand and "Finger Scrubbing" which causes knots in long coats.
Penetrates to the base of the coat, with soapy water, in one step saving time and coat damage.
No more rinsing to get the coat wet and then doing a soap application.
This system does it all for you, in one step.
Please watch our videos below

Fill laundry tub with soapy water and the other tub with rinse water
and bath a show coat in under 4 minutes.
Also can use this washer as a recirculating washer
(such as Bathing Beauty) which is great to have at dog shows.

A commercial Power Wash Bathing System costs about $900
from a grooming or pet care catalog under the names "Bathing Beauty", etc.
This is an even better Bathing System, with the hands free, on/off food operation
and less than half the price of commercial units on the market.




* Can use in the Booster Bath !
* Easy to use foot operated on/off switch leaving both hands free.
* No more rinsing and then soaping. This system does it all in one step !
* Use any shampoo and less of it, with this recirculating system.
* Do more dogs in less time and more thoroughly.
* Ideal for using at dog shows
* No water in your grooming area? no problem, with this recirculating system.
* Not enough water pressure, not a problem with this pressure boosting system.
* Can use in any type of bath tub or laundry tub
* No assembly, just turn on to use.
* Comes with mesh bag to prevent hair from being recirculated
* Runs on 112V (normal house outlet)
* Excellent gift idea !




We find it easier to fill one laundry sink with soapy water and
the other side with clean rinse water and bathing in the tub.
What ever sink the unit is in, I also run that tap water, to refill that sink as I go
so that I'm never having an empty sink or waiting for a sink to fill
Takes WAY less time than filling and draining the tub
and the dog always has fresh bath water.





* Watch the Ultimate Dog Wash System in action *
You will need 1/8" of water in your tub





For dogs that shed, we have also included a mesh bag to put around the unit
to prevent dog hair from getting sucked back up, and clogging the unit




Deep penetration of long coated breeds
No need to knead through the long coat. No causing tangles during washing
3 minutes 41 seconds to bath a short coated dog and under 5 minutes for a long coated dog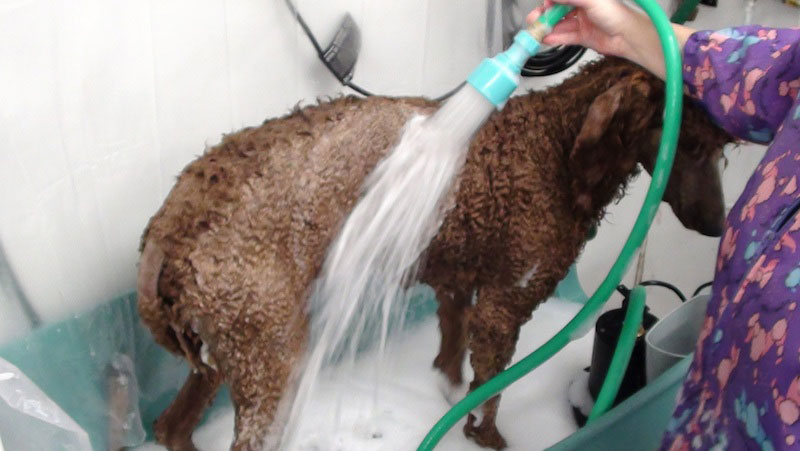 This Booster Bath was modified to have a Corrugated sheet used as a backsplash
fastened to the tub with plastic nut and bolt. This is a great modification, as keeps the water in the tub




HOW TO USE A BOOSTER BATH
AND WASHER AT A DOG SHOW

if there is a bathing area, or you have a booster bath
at a Southern Ontario show, I can also demonstrate in person how the unit works FREE.


BUCKET and Booster Bath Method
This method you would have 2 BUCKETS.
One bucket of your Soapy Water
Second Bucket with Rinse Water
Simply move the unit from Soapy bucket into to rinse bucket, to rinse the dog
Repeat for each dog, you will have them bathed in under 3 minutes each.



Booster Bath Recirculating Method
This method involves you putting water and soap into the Booster Bath
after each dog is soaped up and sitting in cages waiting to be rinsed
then drain the booster bath and applying fresh water into it, to rinse each dog off.
This method allows for those specialty shampoos to do their job
by remaining on coats the correct amount of time.
OPTION 2:
You could also just use the unit to RINSE dogs of their shampoo, which is usually
the longest part of the bath, as there is never enough hose pressure.
There are so many options to use this foot operated Dog Washer. You do YOU.





Winter and mud season are coming, so get your grooming equipment ready