"ACCESSORIES"
IF YOU HEAR OR SEE A PRODUCT ANYWHERE
you would like to try, or would like to purchase
let me know, as chances are I either have it, or I would also
like to try it, and I will find it and order it in.
My goal is to be Canada's one stop shop
for all your Whelping needs


*Click to view Puppy Rails for our Puppy Boxes
= $60.00 with our puppy box





NEW Whelping Pads
Wicks away moisture, to keep pups dry and warm
Ideal use is for when mom is Whelping her pups as the pups are visible
stay warm and clean and easy to wash pads as they soil between delivery.
Made to last
Non-skid durable backing
Ideal to use in our Whelping Box
Do not use Fabric softener or sheets when washing/drying
fabric is durable and soft, provides traction, for nursing pups
36"x 32" = $20.00/each





Veterinary Fleece
You will not need to change for a number of days, unlike Puppy Pads
as Fluids go through, keeping mom and pups dry and warm
Will last for YEARS (do not use fabric softener or sheets when washing/drying)
Can line dog cages with this, wicks moisture through and "hang" dries quickly
Super comfortable for mom's and pups
*Click here for more information and photos
We have Purple, Pink Blue, Green, Grey
48"x60" approx (1600 gsm or 2000 gsm)
$160.00
(discount with the purchase of one of our boxes)





24" x various sizes
Ideal to put in puppy cages or for small breed cages
Keeps pups warm and dry, pee wicks right through if they have an accident
Great for older kids too, as is very comfortable and cushiony
$5.00 - $15.00





Puppy Heating Pad
King Size: 12" x 24"
Maintains consistent heat, so pups do not chill
NO AUTOMATIC SHUT OFF !!
Slide controller with large switch Features 3 heat settings (never put on high for pups)
long cord, to plug directly into outlet (extension cords can be fire hazards, be careful)
Soft machine washable cover for easy care, never ever put pups directly against uncovered heating pad
Not to be left unattended, not recommended on high for direct contact to puppies
ALWAYS use the provided cover and a barrier to flooring or whelping box and to puppies
For use in the middle of the whelping box for pups to stay warm when sleeping or nursing
having the heating pad in the middle, will encourage the pups to seek
the warmth and stay out from the sides of the box.
Easier for mom to come in and lay down or get up and turn around
to get more comfortable with the pups all in the middle.
Can also be used in a "bin" to keep pups warm, while mother is busy whelping
Cord tucks in behind our puppy rails, or under the sides of the whelping box
$45.00





CLICK TO VIEW: Velcro ID Bands &nbsp ~ "Marking" Coloured ID Bands
Two styles of Puppy ID Bands available
$14.00 FREE shipping !





Locking Hemostats
Ideal for tail/dewclaw removal
Ear hair removal
Clamping umbilicals
5" Straight locking clamp
$5.50





Basic AI KIT
9" pipette (for use on most breeds)
30 ml disposable Syringe
4 - Disposable Artificial Insemination Cones
2 gloves
These kits are disposable, but I have reused mine, several times with great success
$10.00




UKC SPOT Rosette = $5.00
UKC SPOT Flat Ribbon = $2.50
Can bring to most local UKC shows or mail out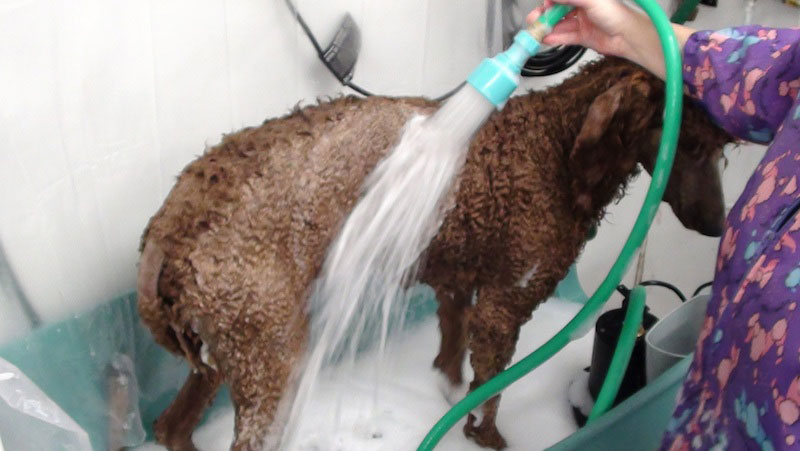 Ultimate Dog Wash System
Alternative to "Bathing Beauty" at $900.00
$250.00







$55.00
Heavy duty Floor Grid
NEW still in boxes, you save shipping and duty to Canada
Keep your pet clean, sanitary and well supported
Raise pups off of any flooring, including whelping box
Black colour
Outdoor Use: Yes
TWO AVAILABLE
1 -36"x24" = $55.00





$100.00

Snap Frame A-Board Sidewalk Sign Holder, Aluminum
Ideal for dog shows to advertise your kennel, Dog Show Ring Times
OR your business