"ACCESSORIES"
IF YOU HEAR OR SEE A PRODUCT ANYWHERE
you would like to try, or would like to purchase
let me know, as chances are I either have it, or I would also
like to try it, and I will find it and order it in.
My goal is to be Canada's one stop shop
for all your Whelping needs

SOME ITEMS ARE MARKED PICK UP ONLY


*Click to view Puppy Rails for our Puppy Boxes
= $75.00 ONLY sold with our puppy box





Puppy Heating Pad
King Size: 12" x 24"
Maintains consistent heat, so pups do not chill
NO AUTOMATIC SHUT OFF !!
Slide controller with large switch Features 3 heat settings (never put on high for pups)
long cord, to plug directly into outlet (extension cords can be fire hazards, be careful)
Soft machine washable cover for easy care, never ever put pups directly against uncovered heating pad
Not to be left unattended, not recommended on high for direct contact to puppies
ALWAYS use the provided cover and a barrier to flooring or whelping box and to puppies
For use in the middle of the whelping box for pups to stay warm when sleeping or nursing
having the heating pad in the middle, will encourage the pups to seek
the warmth and stay out from the sides of the box.
Easier for mom to come in and lay down or get up and turn around
to get more comfortable with the pups all in the middle.
Can also be used in a "bin" to keep pups warm, while mother is busy whelping
Cord tucks in behind our puppy rails, or under the sides of the whelping box
$49.00 - "4" in Stock as of July 16, 2021




New Whelping Pads
Wicks away moisture, to keep pups dry and warm
Ideal use is for when mom is Whelping her pups as the pups are visible
stay warm and clean and easy to wash pads as they soil between delivery.
Made to last
Non-skid durable backing
Ideal to use in our Whelping Box
Do not use Fabric softener or sheets when washing/drying
fabric is durable and soft, provides traction, for nursing pups
36"x 32" = $20.00/each PICK UP ONLY unless you purchase Box




Veterinary Fleece
You will not need to change for a number of days, unlike Puppy Pads
as Fluids go through, keeping mom and pups dry and warm
Will last for YEARS (do not use fabric softener or sheets when washing/drying)
Can line dog cages with this, wicks moisture through and "hang" dries quickly
Super comfortable for mom's and pups
*CLICK HERE TO READ MORE ABOUT VET FLEECE and SEE photos
We have Grey
48"x60" approx (1600 gsm )
$160.00 - PICK UP or Delivery, with BOX ONLY







New 2019
Reusable Puppy Whelping Box Mat
43"x48" to fit into our Breeder's box
Whelping Box Liner provides a clean, sanitary whelping area.
The waterproof bonded backing prevents any leak through.
Gives your puppies an insulated and sure-footed surface
The top side of this mat is a super absorbent material keeping pups dry
No slip, vinyl backing.
It is charcoal gray in color (almost black)
Cleaning the the mat is easy, just toss in your washing machine or hose down and hang to dry.
Odors and stains wash out easily and manufacturer says, will withstand hundreds of washings.
Very light weight easy to roll or fold for storage.
Can be used under Vet Fleece to absorb all fluids that wicked through.
(special order for Pool size, from Wheatley Wares)
UPDATE: I used this material to line my dog cages and ended up driving
8 hours straight. Course when I arrived at the dog show couple of my dogs had pee'd in their cage
and the dogs were bone dry still but the mats were heavy with pee !!!
Needless to say I"m going to line ALL my dog cages with this amazing material which I can wash.
Click to view brief Video
$45.00 - Available with the purchase of our Breeder's Box




*Click to view: LIXIT plastic Bottle holder
Free Standing Stand
NEW 2021
$30.00





CLICK TO VIEW: Velcro ID Bands &nbsp ~ "Marking" Coloured ID Bands
Two styles of Puppy ID Bands available
(Velcro ID collars can be ordered in any size you need for additional cost)
$14.00 FREE shipping !






Set of 6 - leash and collar set
ideal to send home with 8 week old puppies
$25.00






!! KILLS COCCIDIA !!
Toltrazuril 5% - 200mL
A single dose of Toltrazuril cures coccidiosis in puppies,
however it is CRITICAL to clean the environment to rid it of coccidia.
$2.15/ml






STRONGID T (pyrantel pamoate) 600 mls
For the treatment of approved for:
The removal and control of mature infections of Roundworms, Hook Worms and Pin worms
$160.00 - PICK UP ONLY unless you purchase Box





Safeguard 500 mls
For Treatment of Giardia, Tapeworms, Roundworms, Hookworms, and Whipworms
$155.00
PICK UP ONLY unless you purchase Box







1 cc syringe with removable needle
Ideal for dosing out wormer or giving Vaccines
25 syringes =$15.00 - - PICK UP ONLY unless you purchase Whelping Box





Locking Hemostat
Ideal for tail/dewclaw removal
Ear hair removal
Clamping umbilicals
5" Straight locking clamp
$5.50 - PICK UP ONLY unless you purchase Box





used to clamp a newborn puppy's umbilical cord right after birth.
Sterile and disposable to successful and safely
clamp off the umbilical cord to prevent bleeding.
2 (Two) for $1.00 - PICK UP ONLY unless you purchase Box





All syringes are individually, sterile packed, loaded with microchip
Microchips are ISO, 15 Digits and compatible with all systems and readers
Syringes use easy0inject needle, for subcutaneous injection in 3 seconds
OFFICIALLY APPROVED FOR REGISTRATION:
Canadian Kennel Club
American Kennel Club
National Companion Animal Coalition (NCAC)
$15.00/each - PICK UP ONLY unless you purchase Box





Basic AI KIT
9" pipette (for use on most breeds)
30 ml disposable Syringe
4 - Disposable Artificial Insemination Cones
2 gloves
Disponible Kits
(I have reused mine, several times with great success)
$10.00 pick up only unless you purchase a box



*Click to view> Cart with Grooming Table
$190.00




*Click to view Poodle Wiggies, Poodle Switches
Poodle Wiggies, Poodle Switches Poodle wig for dog shows for sale
Poodle Switches for dog shows for sale For sale..
Prices on each photo's description. Lengths vary from 6"-12" Natural Colors.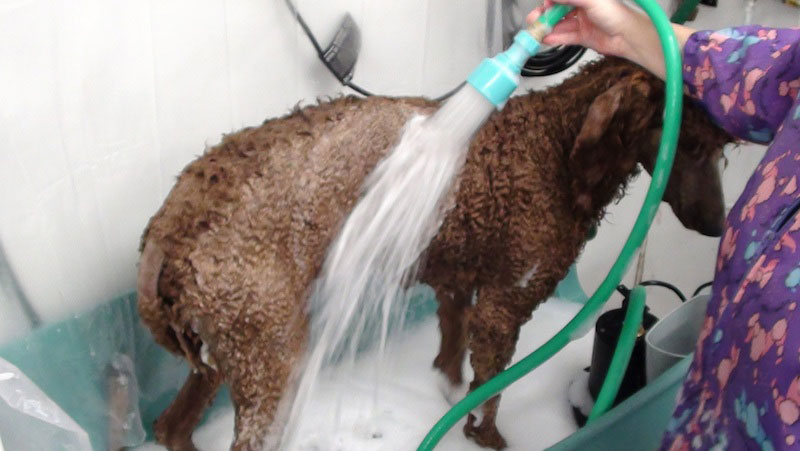 Ultimate Dog Wash System
Alternative to "Bathing Beauty" at $900.00
$350.00







UKC SPOT Rosette = $5.00
UKC SPOT Flat Ribbon = $2.50
Can bring to most local UKC shows FREE or mail out for additional $2.00




$55.00
Heavy duty Floor Grid
NEW still in boxes, you save shipping and duty to Canada
Keep your pet clean, sanitary and well supported
Raise pups off of any flooring, including whelping box
Black colour
Outdoor Use: Yes
TWO AVAILABLE
1 -36"x24" = $55.00 pick up only